Post Disclaimer
ZeeReviewz is supported by its audience. When you purchase through links on our site, we may earn an affiliate commission. Learn more
A power outage is often a problem to tackle instantly so that no interruption can be followed due to electricity short cut. The best generator for a home power outage is designed to fulfill the need for electricity for almost all the home appliances.
The generators pledge a wide variety of features which then helps with all types of convenience in use. budget-friendly, total quality value, and high performance for Best Generator For Home Power Outage usually range from 500 dollars and above.
Generators for home use are ranked for easy convenience and choice to make through our buyer's guide.
My Top Pick:
Westinghouse WGen 7500 is ranked best in the market for its promising best value and overall reliable performance. The unit holds all the essential features which are best suited for the home power outage. The unit is also back up with 3 years of warranty which provides an ultimate quality guarantee.
Best Generator For Home Power Outage
The device is best matched with home energy supply in case of emergencies and back up situations. Easy to set and maintain, the unit is the ultimate and clear choice to make in case of any doubt towards a variety of generators.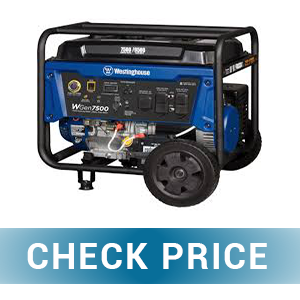 Westinghouse WGen 7500 is the ultimate backup generator for home power outage which provides reliable performance and supply in case of emergency and electrical outage.
The generator is the best quality unit as a standby unit and provides prolong running hours.
The generator starts with an electric remote rather than a recoil system. The unit offers additional tool kit appliances for easy setup and maintenance. The unit offers 3 years of limited, labor warranty which shows its quality performance.
Features:
The unit offers a peaked rate of 9500 watts and working wattage of 7500 watts. The powerful voltage enables heavy-duty appliances like that of the air conditioner and refrigerator.
The unit provides 11 hours of running time at quarter load and 10 hours on half load. The OHV 420 cc engine offers stable power output and reduced decibels at 79dB.
The large capacity fuel tank of 6.62 gallons indicates a powerful and strong framework for reliable and long life. the device has an automatic low oil shutdown, automatic voltage regulation, and overload protection.
The unit features GFCI outlets which are water resisted and include further 4 household outlets providing an easy source for powering home appliances.

Honda EU2200i generator holds inverter technology for easy convertibility of AC output to DC and DC output to AC. This unit is also portable due to its small and compact design which then extends its use outdoor with an indoor power outage, in RV, and for traveling purposes.
The unit is easy to use and low maintenance which then offers great ease for the users to maintain the unit. The generator offers a parallel capability for doubling the energy with its least noise level. The device overall holds a warranty of 3 years.
Features:
Honda EU2200i is an inverter portable generator offering enormous promising features that are suitable enough for emergency conditions usage.
The portability adds up to its wide use at camping, job sites, off-guard endeavors. The unit offers quiet operation at a decibel level of 48 to 57 dB marking its non-interruption quality.
The Eco-Throttle System assures the fuel efficiency in the tank and provides 4 to 9.6 hours of running time varying from different loads. The inverter technology provides safe and clean power to the appliances making it a protected generator for use.
In the case of thermal overload, the electronic circuit breaker protects the engine from any sort of accident. The unit weighs 47 pounds which can easily be lifted and contributed to easy mobility.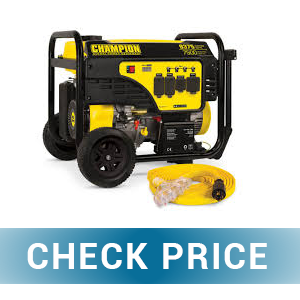 Champion 7500 is a wireless remote start generator which can be operated from a considerable distance of 80 feet. The powerful engine has an electric start which is easy to operate with push-button.
The durable steel frame upholds the generator life for a longer time period and the unit comes with advanced features that make the device strong, safe, and powerful. The generator offers 3 years of limited warranty with further lifetime customer care which is free of cost.
Features:
Champion 7500 is a standby generator which is best suited from home power outage as it assures the uninterrupted energy output. The starting watts are 9375 and running watts are 7500 which are powerful enough for providing reliable energy to almost all home appliances.
The reliable 439 cc engine offers touch start and has a push button to get started the 6 gallons of the fuel tank for providing 8 long hours of back up. The water-resistant outlets include 120/240V 30A locking, 120/240V 50A RV, 120V 30A RV, 4 120V 20A all GFCI protected household outlets for protected supply.
The unit includes a u-shaped handle with never-flattened tires easing portability of the device. The decibel level ranges for 74 decibels from 23 feet which are considered sustainable.
Cold Start technology helps inconvenient and uninterrupted start of the engine in cold weather. Intelligence helps with monitoring of frequency, voltage, and operating hours. Volt Guard prevents overload and keeps the engine steady.

Westinghouse iGen 2200 inverter portable ultra-quiet generator is perfectly suited for emergencies back up at home power outage.
The inverter technology helps with the easy convertibility of AC output to DC and DC output to AC.
The unit offers durable working watts by its powerful engine. The unit is parallel capable and helps to increase the wattage at an hour of need. The unit is back up with 3 years of warranty with lifetime customer care support.
Features:
Westinghouse iGen 2200 provides running wattage of 1800 watts with starting wattage of 2200 watts providing perfect back up for emergency use. the generator is gas-powered with Two 120V 20 Amp Outlets, Two USB Outlets.
The noise level is 52 decibels which are extremely quiet due to its inverter technology and has an Economy mode for upholding easy fuel efficiency.
The unit automatically adjusts the power supply to increase fuel efficiency. The run time is 12 hours at 1.2 gallons of the gas tank. The unit weighs 46 lbs. which is lightweight for easy portability?
The generator has a compact design and a small frame which adds to its portability. The unit is reliable in its use and provides durable working hours.

See This Video For More Information:
For more Exciting offers and deals visit our Home page