Post Disclaimer
ZeeReviewz is supported by its audience. When you purchase through links on our site, we may earn an affiliate commission. Learn more
Are you looking for an AM4 motherboard for AMD Ryzen 3rd, 2nd, and 1st generation CPU, so that you can make your very own personal gaming PC? Do you want to enjoy the real spice gaming has to offer but you don't know which motherboard to consider and buy?
Then worry not as we have listed some of the Best AM4 Motherboards For Gaming that will pique your interest as they are specially made for you to enjoy your gaming rig.
What Things To Consider Before Buying?
To purchase the best AM4 motherboards for gaming, look for the following features!
Socket: You have to make sure that your motherboard has a socket that is compatible with your CPU. 
Size: There are three sizes, ATX, micro-ATX, and Mini-ITX.  ATX has more space for ports and slots.
Ports: Make sure that your motherboard offers many ports. like USB 3 / USB 3.1 Gen1, USB Type-C, USB 2 and USB 3.1 Gen2. 
RAM Slots: The greater the RAM slots, the more RAM can be installed.
My Top Pick:
ASUS AM4 TUF Gaming X570 Plus is considered to be the best-selling AM4 motherboard as it has a durable circuit with long-lasting military tech components that allows you to experience the power of gaming in full capacity. Not only that, but it is also at an affordable price and is very economical and user friendly. It is the best AM4 motherboard for gaming.
Best AM4 Motherboards For Gaming
Let's dive into the detailed review section of these products!
Keeping hardcore gaming in mind, MSI MAG B550 is packed with various essentials that are on par with its rivals. Many gaming features have been squeezed into its compact body to optimize the thrill experienced by the gamers.
The sturdy chipset provides excellent performance. It comes in black and grey contrasts. It has dual M. 2 slots and dual ethernet slots. It also sports Realtek ALC1200 HD audio codec. Let's have an in-depth look at its features
Features:
The MSI MAG B550 comes with a well-built design with various grey and black colors. It comes with a heatsink, sports a patterned PCB along with rear panel controls.  Underneath the chipset heatsink, there is RGB LED lighting. 
It has 4 memory slots of DDR4 with 128GB. The dual M. 2 slots are separated by M. 2 for the heatsink. It has 6 SATA ports as well. 
This fortified steel armored device will help you operate your computer smoothly. It is the perfect device for communicating with various components of your computer.
The MSI MAG B550 provides you an immersive gaming experience by providing awesome audio quality. But the immersive audios are on a low level as compared to its competitors.
It comes with a dual peripheral component interconnect and provides 16 slots to add GPU, SSD, wi-fi cards, etc.
Other connectivity options include HDMI and a display port. The major drawback of this device is its lack of Wi-Fi connectivity and its rear IO has only 6 USB ports.
What We Like
Offers USB 3.2 G1 front panel connectivity
Sports LAN connectivity of 2.5 and 1G
Provides remarkable 13-phase 60A power delivery
What We Don't Like
Cheap audio codec
Lacks Wifi connectivity
Rear IO is equipped with only 6 USB ports
Bottom Line:
MSI MAG B550 is an excellent device with which you can have lightning fast gaming experience. It is certainly among the best AM4 motherboards for gaming.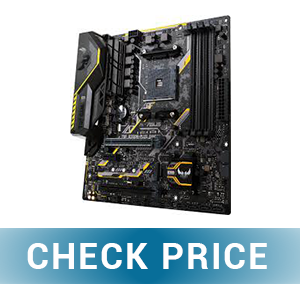 There are a lot of specs that a gaming PC requires. For smooth gaming, what you need to have is not a fast processor but also a motherboard that will assist in the buttery-smooth functioning of the game.
For AMD processors, you need to have motherboards that are best compatible with them.
Asus AM4 TUF is among the best AM4 motherboards for gaming. This lustrous device is loaded within various connectivity options and interfaces. It has a well-built design with amazing features to offer. Let's dive into its specs.
Features:
Asus AM4 TUF tends to provide constant and stabilized power to the CPU and capacitors by using certified military-grade chokers. During power delivery, it provides a temperature tolerance of about -70C to 125C. Using 12+2 power stages with the aid of MOSFET, this device ensures clean power conservation to various components of your PC. It has a hefty heatsink as well which aids in keeping the chipset cool and fully functional.
For interfaces, Asus AM4 TUFF is packed with dual PICe 4×16 slots, a trio of PCIe 4×1 slots. It also sports 8 SATA 3.0 ports, dual USB 2.0 ports, and a USB  3.2 Gen.1 for the front panel. However, the only connection that it lacks is the USB-C for the front panel
This versatile entry-level device offers tetra USB 3.2 ports, three USB 3.2 gen 2ports, along with HDMI and display ports. For extensive gaming, it sports Exclusive Realtek L8200A Gigabit Ethernet, Intel 2×2 802, and 11ac Wi-Fi with MU-MIMO support. It also boasts  Bluetooth 5. 0 along with  TUF LANGuard and technology. 
What We Like
Excellent entry-level motherboard
Even under high power, it provides steady performance
What We Don't Like
Lacks USB-C port for the front panel.
Bottom Line:
Considering the versatile and awesome features that Asus AM4 TUF offers, it certainly is one of the best am4 motherboards for gaming.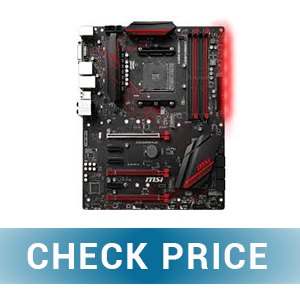 MSI brand has always gone through various ups and downs however, in the case of its motherboards, this brand has always been at the top. MSI Performance Gaming AMD X470 is a versatile motherboard device that although lacks some aesthetics and good looks, is a cannonball in terms of its performance.
Therefore, if performance quality is what you are after, then this beast is certainly with your money. It is an excellent blend of features and functions. For an awesome gaming experience, the brand has installed plenty of specs in it. Let see, what this compact device has got to offer.
Features:
MSI Performance Gaming AMD X470 is famous for its compatibility with various Ryzen processors including the Ryzen 3000 processors generation. Its enhanced and optimized BIOS compatibility is unique and exceptional.
It is best at providing stable and steady power to the CPU components. It boasts excellent memory stability and performance. It has leveled up the memory circuit and has made it quite reliable by testing it with various memory manufacturers.
For audio, this device rocks. It has an awesome audio boost technology that accelerates your aging experience. The audio boost is a package of an HD audio processor, a dedicated amplifier, and high-quality audio capacitors. To support the weight of heavy graphics cards, this device is fortified with PCIe steel slots.
On the bottom right side of the motherboard, there is a power reset button installed which is helpful when you are using the motherboard without the outer case. 
Its main selling point is its overclocking ability. Although it has lain aesthetics in the overclocking department and maintaining the VRM temperatures is what makes gamers purchase it.
What We Like
Excellent overclocking tendency
Excellent in maintaining the VRM temperatures under heavy work loads
Bottom Line:
MSI Performance Gaming AMD X470 is laong expensive, but considering its awesome specs it's certainly worth your money. It is certainly one of the best Am4 motherboards for gaming 2021.
Powered by a 2 generation AMD ryzen Am4 processor, this ASUS TUF B45O PLUS, gives you the best gaming experience and keeps up with you 24/7. ASUS TUF B450 is a gaming motherboard that allows you to connect other components to your computer without any difficulty.
You can experience more diverse and intricately designed heavy games with this motherboard as it is considered one of the best AM4 motherboards for gaming. An Am4 motherboard is a microprocessor socket released in September 2016 to replace other sockets as it has more diverse and trustworthy features to offer than the previous sockets. 
Features:
ASUS TUF B450 PLUS works on one lithium-ion battery, with a memory type DDR4 SDRAM integrated into it that allows you to store and process information and other work without any outside interference. It has a Bluetooth mode installed in it that gives protection and ensures that your other components can keep up with you.
It comes with 3-year reliability and is designed using high military-grade engineering. It gives you a more realistic gaming experience as it has exclusive RGB lighting and RGB header aura sync. It has a TUF protection that prevents short-circuiting as it has safe slots and over-voltage protection installed in it to ensure the safety of attached components.
It has a chipset of AMD B450 that has a memory of  4 x DIMM; Max. 64 Gb and DDR4 – 3200 MHz. It has an ATx form factor with an Audio of supreme FX  S1220A. 
What We Like
It has great quality and is very reliable.
Metal shields and protection have been provided for PCI slots.
What We Don't Like
It is not easy to open an access front panel header
Bottom Line:
It has ultra fast transfer speed that allows it to outshine its competition and protects its components.
ASUS AM4 TUF X570 Plus is a gaming ATX motherboard that enables you to experience the real spice of gaming without any delay and interference. Its compatibility is greater with  2nd and 1st generation AMD Ryzen, with Radeon Vega graphics and 3rd Generation AMD Ryzen processors.
It ensures you an unwavering gaming experience with its rock-solid military tech that not only protects the motherboard from various disasters but can also distill the latest components of the AMD platform for you to enjoy game ready features on. Thus, this ASUS TUF X570 is considered to be one of the best  Am4 motherboards for gaming.
Features:
ASUS TUF X570 is known to be the foundation of the next AMD high count battle rig as it has rock-solid performance that comes with upgraded power and intricate as well as comprehensive cooling options that are known to fuel modern-day Pcs for faster memory and storage.
It has a dual PCIe 4.0 M. 2, with 2 USB ports of 3.2 gen, it comes with an exclusive LA200A  Relate Gigabit ethernet. It also has a Tuff LANGuid and Turbo Lan technology for next-generation connectivity. It has precooled sockets and digi+ + VRM that are considered to be enhanced power solutions for maximum durability.
Not only that it also has 12 + 2 Dr. MOS power stages, 6 layer PCB and TUF military grade components. It has an Aura Sync RGB that has the capability to synchronise LED lightning with a vast and diverse portfolio of pc gear. It works on a one lithium polymer battery and weighs approximately about 2.64 pounds.
What We Like
It has a very sturdy and durable socket.
What We Don't Like
Not enough PCIe x 1 port usable.
Bottom Line:
This motherboard has so much to offer and is designed so intricately that you can enjoy   your time while using it without any irritation to the brain.
Frequently Asked Questions (FAQ)
Which Motherboard Brand Is Best For Gaming?
Asus ROG Maximus, Gigabyte, Asus ROG Strix are the best motherboard brands for gaming because they have such an incredible built-quality. They have a high-end performance that will keep your PC running at full speed.
What AMD Chipset Is Best For Gaming?
MSI MPG X570, Asus ROG Crosshair is the best AMD chipsets for the best gaming experience. These chipsets have a low price tag but have more features.
Is The B450 Motherboard Good For Gaming?
If you want to create a budget gaming PC using a 2nd generation Ryzen processor then it is the best choice for you. However, it only supports up to 32 gigs of RAM.
Do B450 Motherboards Have WIFI?
The MSI B450 does not have WIFI.
Buying Guide
How To Buy The Best AM4 Motherboards For Gaming?
Motherboards are an amalgam of various complexities. They have a lot of complex specs that it bewilders one's mind when looking for a motherboard to buy. Your purchase can be made easy if you think about the following factors:
Which Type Of Socket Should You Purchase:
You have to make sure that whatever motherboard you are buying, its socket is compatible with your CPU. nowadays, for AMD processors, AM4 socket motherboards have been launched.
What Motherboard Size Should You Purchase?
The next question should be about the size of the motherboard. Motherboards are currently being sold from largest to the smallest. The size is not of major importance, what comes with the size are the slots and features. It's common knowledge, that the bigger the devices, the greater are the features present.
How Many RAM Slots To Look For?
RAM slots are directly linked to the amount of RAM you can install. Many mainstream motherboards have 4 RAM slots however top-notch HEDT boards have 8. For basic tasks and games, 16GB is more than enough.
Wrap Up!
If you are confused by the variety that the market offers, just look at the top 5 products we have selected for you. This will surely ease-up your purchase!
See This Video For More Information:
For more Exciting offers and deals visit our Home page